AT HOME WORKOUT OF THE DAY 5/27/20
An incredibly heartfelt thank you to everyone who tackled "Quarantine Murph" this Memorial Day.  Whether you did full Murph, Half Murph, Beach Murph…whatever Murph, as long as you took some time to honor the Fallen…well, Mission Accomplished!
While we are all making sacrifices during this uncertain time, paying tribute to those who have made the ULTIMATE sacrifice to protect our freedoms is more important now, than ever. Thank You.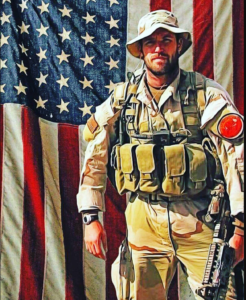 ---
---
It's always more fun to work out with friends! Have you joined in on a Zoom class yet?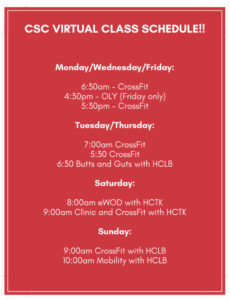 For those doing the CSC WODs at home and are unable to attend a Zoom class, we are posting daily WOD briefings to our CSC You Tube channel! Check here to see movement demonstrations, scaling options, and progressions to help you get the most out of your workout!
https://www.youtube.com/channel/UCe37_oQeHOARetJK-KCIJ2Q
Also, don't forget to check out our At HOME STRENGTH CYCLE designed for everyone! From those with fully equipped home gyms, to no equipment at all! Please check your email and/or our Facebook Group for details on how to access both resources.
Stay safe and healthy everyone and keep working out!!
Fitness
Warmup:
2 rounds:
1 min Single Unders
1 min Good mornings
10/side DB strict press
WOD:

AMRAP 12:
25 Double Unders
10 Alt DB Snatch
Performance
Warmup:
2 rounds:
1 min Single Unders
1 min Good mornings
10/side DB strict press
WOD:

AMRAP 12:
25 Double Unders
10 Alt DB Snatch
*If no equipment, sub 12 reverse burpees
Competitor
Warmup:
2 rounds:
1 min Single Unders
1 min Good mornings
10/side DB strict press
WOD:

AMRAP 12:
25 Double Unders
10 Alt DB Snatch