WORKOUT OF THE DAY 5/20/19
Congratulations to all of our CSC Spring Showdown Competitors!!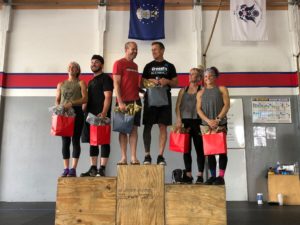 So incredibly proud of our athletes who participated in the first CSC Spring Showdown! Lots of hard work, lots of "Firsts", lots of laughs, and most important, lots of FUN! Well done CSC!!! You all crushed it!!! And a huge thank you to those who came to help out and cheer!! What a fantastic day!!
STRENGTH:
Every :90 for 15 minutes:
Snatch x 2 (Ramping)
ultimate_info_table][/vc_column_inner]
Fitness
"Cement Mixer"
On the 3 minute x 7:
400m Run
12 Toes to Bar (Kipping Knee Raises)
*Score is slowest Round
May also modify distance and/or reps!
Performance
"Cement Mixer"
On the 3 minute x 7:
400m Run
12 Toes to Bar
*Score is slowest Round
Competitor
"Cement Mixer"
On the 3 minute x 7:
400m Run
12 Toes to Bar
*Score is slowest Round